Terceira
An Island In The Azores
April 2016
Travelzoo.com issues a weekly "Top 20 Travel Destinations" newsletter and back in January this one popped up. The travel package was being offered by Azores Getaways and was to the island of Terceira in the Azores. The package included r/t air for two + 7 nights hotel + breakfast + airport/hotel transportation for an amazingly cost effective price.... we couldn't resist so we booked it! This "package" is what I call an "independent tour" where logistics are covered but once onsite we're on our own to explore at our own pace. No bus tours for us! Also note, that we have done several trips and getaways offered on travelzoo.com. Click here for more detail on the money side of things.... Money Matters

Please Note: Click on any image for more specific information about it. Clicking on the little map will bring up a satellite image showing where we were when the image was taken. Camera setting information can also be found.
The Azores:
The Azores are a group of 9 islands located about 900 miles off the coast of Portugal with Terceira being the 3rd largest of them. Back in the early days of trans-Atlantic flight, the Azores were a refueling stop. What amazed us was how few people have even heard of the Azores now that aircraft can go the distance on flights to Europe. An exception to this would be certain military flights which stop at Terceira because there is still a US Air Force presence at the airport. Terceira itself is about 15-17 miles long and about 10-12 miles wide and is inhabited by roughly 60,000 people. Most are in the city of Angra do Heroismo where our hotel was located. Dairy farming appears to be the primary industry. For this trip we chose to rent a car which was equipped with a 5-speed transmission but most of our driving was in 2nd and 3rd. Our GPS showed that we covered 250 miles at an overall average of 25mph. I did get to use 5th gear a couple times on the islands 10 mile stretch of highway between Angra and the airport. Driving was on the right as here in the states. Euro is the local currency and gas was pumped by the liter which worked out to about $6US/Gallon and we used about $45 worth for the week. We brought along our Garmin GPS with a map chip installed for the Azores. In addition, we had waypoints for places like the hotel and some sightseeing points of interest preloaded.

Getting There:
The "package" included r/t air for two from Logan in Boston with the departure scheduled for 10pm on a Wednesday arriving in Terceira the next morning around 7am. There are several ways we could have used to get to Boston but we came across r/t Philadelphia to Boston flights for $116/each so we decided to fly. Our flight got us to Logan around 3:30pm which gave us plenty of time to get our bags, walk to the international terminal, and grab dinner before boarding our 10pm SATA Airlines flight to Terceira. Upon arrival (~7am local time), we cleared Portuguese customs, retrieved our rental car, and drove to Angra do Heroismo to our hotel. Check in wasn't until 2pm so we let them know we were in the area and walked into town for breakfast at a sidewalk cafe followed by a little sightseeing. Return flight to Boston departed Terceira around 3:30pm local time and arrived in Boston around 5pm EST. Rather than risk missing a late evening connection to Philadelphia, we elected to spend the night at a nearby hotel and fly home to Philadelphia the next morning. The airport on Terceira is pretty small, been awhile since we had to get on/off an airplane via stairs and a bus to the terminal.
The Hotel, Pousada de Sao Sebastiao:
I noticed that there were several hotel upgrades available while going through the booking process. We upgraded to this one because it was located in Angra and was inside of an old fort. I was sold when I saw this unique location. Most of the rooms were in a somewhat modern building located on the grounds within the walls. We were assigned to a room located in a structure that was part of the original fort. This structure is the "yellow" building shown in a couple of these pictures. The room itself was VERY large and was equipped with the usual amenities. Ours was even equipped with a wifi router so we were connected. The hotel also had a restaurant where breakfast (included) was served daily. We even purchased lunch and dinner a couple times. The grounds were open to all and we spent some time walking the walls and taking pictures.

The Town, Angra do Heroismo:
Parking in town is a nightmare so all of our trips into town were on foot. We found ourselves walking into town at least once a day for dinner. Sometimes we made the trip twice. In either case, we were hitting 12,000-14,000 steps on our Fitbits. All of the roads AND sidewalks in town were cobble stone. Sidewalks had some white marble stone laid into them to form patterns. The island does NOT get snow so there isn't a plowing issue to deal with. Sidewalks were narrow and in some places, non-existent, especially on very narrow side streets. While we ate in several different places, we especially enjoyed two of restaurants. One was on a 2nd floor with a decor that was about as "old world" as it gets but we found that the place was frequented by "tourists". The other location (O Chico) was much more to our liking as we were usually the only tourists in the place. In any event, we found that meals were cooked to order, nothing pre-made. There was no rush in any restaurant and you had to ask for the check when YOU were ready to leave. While in town, we visited a rather extensive garden, visited the museum which was awesome(!), and walked a lot of streets and alleys.

* The Streets and Sidewalks were all stone. Even crosswalks. Designs were made with white stone/marble. Some of the off streets had a narrow sidewalk if any at all. Of course there were LOADS of hills to walk.

* We Walked Into Town Every Evening For Dinner. Restaurants Didn't Open Until 6:30pm With Most People Showing Up After 7:00pm. Never Any Rush. We Found That You Had To Ask For The Check When You Are Ready To Leave....

* The Museum was absolutely AMAZING and was far more extensive than some we've seen in larger cities. Admission was 1E for seniors. I tried to donate a couple more and they wouldn't accept it. There was a church connected to the museum......

* The local grden was pretty nice and was well maintained. Kathy was amazed at the size of the Jade plants. The garden was tiered and we climbed all the way to the top. We walked back into town via local roads through the neighborhood.

* Some images we captured as we walked/drove around town....
Out and About:
As mentioned, we rented a car for the week so we were able to go out and explore the island at our own pace. We also had a couple dozen geocaches loaded into our GPS so searching for them gave us an objective to drive to. By weeks end, we had pretty much covered the entire perimeter of the island and a number of interior locations as well. We visited both caves, Praia Da Vitoria (the "beach" community), and a few of the villages along the way. Our final morning was spent hiking what was deemed an "easy" trail that was an experience for us. Clicking on these thumbnails will get you some additional detail.
* The "EASY" trail but it was worth the effort. The scenery was absolutely beautiful!!..... Baias da Aqualva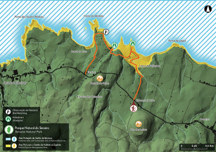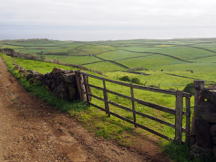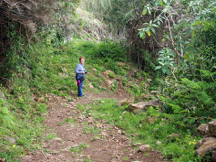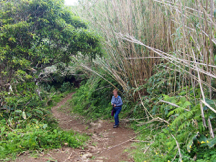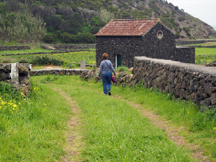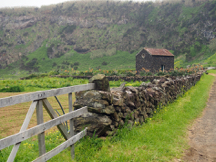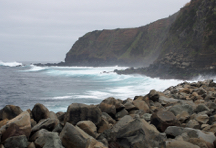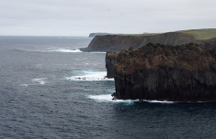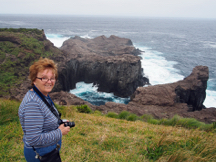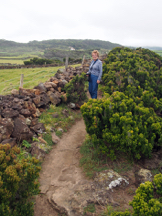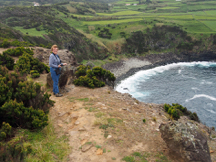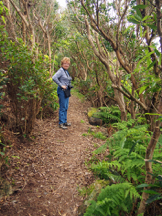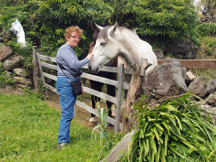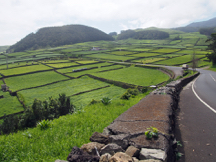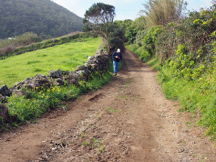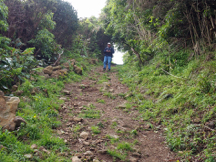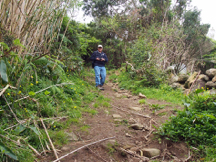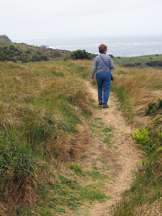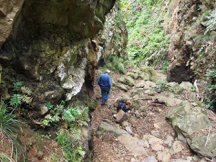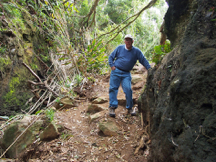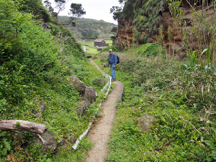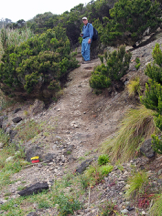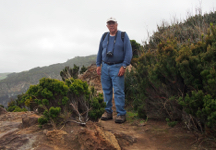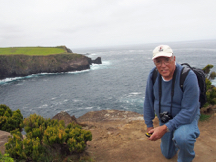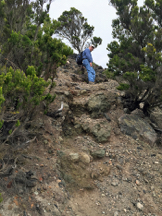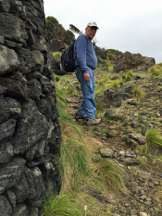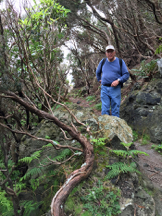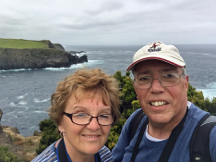 * The Cave With LOTS Of Steps But It Was An AMAZING Sight..... Gruta do Algar do Carvo

* The Cave With Few Steps But Rough Walking Surfaces. This one had a virtual geocache inside of it..... Gruta do Natal

* The Other Major Population Center On The Island. This One Has The Islands Beach..... Praia da Vitoria

* We Spent A Lot Of Time Exploring The Island, Here Are Some Captures Along The Way..... Terceira Island

To see images in stream fashion:
Flickr Album
Return To Main Page

You are encouraged to poke around on our site and send a note to tell us that you were here. Comments about the page are also welcome. Just click on the mailbox.