Terceira, An Island In The Azores
April 2016
* Money Matters *

Travelzoo.com issues a weekly "Top 20 Travel Destinations" newsletter and back in January this one popped up.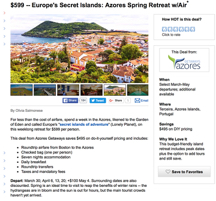 The travel package was being offered by Azores Getaways and was to the island of Terceira in the Azores. The package included r/t air for two + 7 nights hotel + breakfast + airport/hotel transportation for an amazingly cost effective price of $599/person. The included hotel was near the shore community, Praia Da Vitoria, which is just south of the airport on the eastern side of the island. We wanted to be near the major population center of Agra Do Heroismo so we could walk around town without having to figure out where to park the car. We heard that parking is tight and expensive in town. So, we looked at the list of optional hotels and came across Pousada De San Sebastiao which happened to be in an old fort with plenty of free parking nearby AND it was walking distance into town. Adding this option brought our total to around $1,500 which was still an amazing deal.

To this we added a rental car for the week ($275), a couple r/t air tickets from Philadelphia to/from Boston ($232 total for BOTH), and a night in Boston when we returned (~$200 with dinner).
Bear in mind that all of this is at 2016 prices. Currently, the exchange rate is about $1.25US per Euro. We got some Euros at a local bank and ended up with 420 Euros for $500US. Coinage was in .05E, .10E, .20E, and 1E and 2E. Notice no pennies, everything rounded to the next .05E. Paper was in 5E, 10E, 20E, and 50E.

We found meal prices on the island to be reasonable and ended up using about 400 Euros for the week. This was for meals, tips, sightseeing admission fees, and gas for the car. It should be noted that EVERYTHING on the island had an 18% VAT tax added. If you spent more than ~50E in one location in a single day, you could apply for a refund. We never met the criteria. On the subject of tipping, we generally tipped about 10% and maybe a little more with some rounding up. For instance, a dinner for two might have totalled 26E and we would have rounded up to 30E.
Return To Main Page

You are encouraged to poke around on our site and send a note to tell us that you were here. Comments about the page are also welcome. Just click on the mailbox.