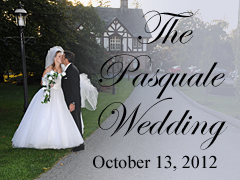 and
Madeleine Renee Pasquale's Baptism
"Our future's so bright, we have to wear shades"
Congratulations Scott & Courtney
click on an image for larger views....
The Ceremony....
The Baptism....
Welcoming The New Couple....
The Formal Pictures....
The Reception....
The Guests and Mansion....
The Photographers.... The Pasquales: Mom, Dad, Dillan, and Dave
This page contains a small portion of the 1500+ images captured by the photography team.....

You are encouraged to poke around on our site and send a note to tell us that you were here. Comments about the page are also welcome. Just click on the mailbox.