Royal Caribbean's
Allure of the Seas
January 2020
Our 2020 "Get Away From The Cold" cruise was aboard Royal Caribbean's "Allure of the Seas" which is one of their Oasis Class ships. These are B-I-G ships with 6,000+ passengers. This was our 32nd cruise in just over 10 years. If you haven't guessed it by now, we love cruising!

We've been to the Western Caribbean a bunch of times so we decided to focus on the ship this time around. In fact, we didn't even get off the ship in two of the ports and simply stayed back and enjoyed what the ship had to offer. It was one of the most relaxing times we've had on a cruise because we weren't on an excursion schedule.

Please Note: Click on any image for more specific information about it. There is additional information under these videos and images. Camera setting information can also be found.
Our Cabin, 9317 - An Inside Balcony:
For this cruise, we decided to try one of the Inside Balcony Cabins we've heard about. The cabin we booked overlooked the "Boardwalk Neighborhood". The cabin's interior was roomy with plenty of storage AND places to plugin any electronic devices we had with us. What we really fell in love with was the balcony. We've had balconies before but none have had the space we had on this one. The railing bowed out which provided enough floor space for a table and chairs. This was the first time we've had a table you could actually sit at. The cabin's location also kept us out of the wind and, most times, out of the sun as well.


A VIDEO-->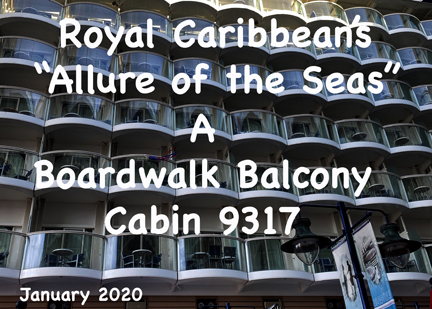 Three Neighborhoods:


As you can imagine, a ship of this size is loaded with spaces for all sorts of activities. We especially enjoyed three of the "Neighborhoods" on the ship and this video gives you a quick look at them....

A VIDEO-->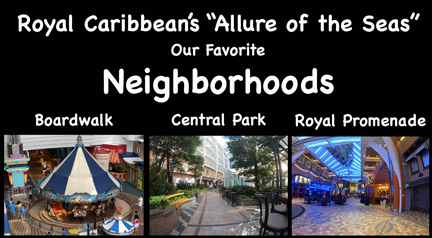 Other Images and Videos:

The Here is a Flickr Album that contains a bunch of additional still and video images. Be sure and check out descriptions that include additional information and tags....

A VIDEO-->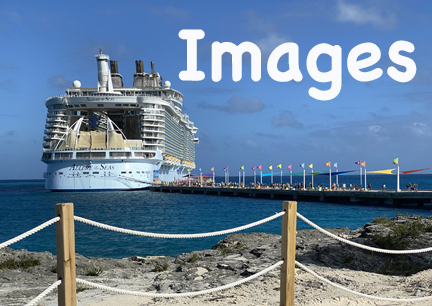 Return To Main Page

You are encouraged to poke around on our site and send a note to tell us that you were here. Comments about the page are also welcome. Just click on the mailbox.