Royal Caribbean's
Navigator of the Seas
March 2019
This was another of our annual "Getting Away From The Cold" cruises where we fly to Florida and get on a ship to warmer places. We were supposed to go on this ship/itinerary last year but had to cancel because of Kathy's heart surgery. It actually worked out for the best because Navigator underwent a multi-million dollar refit just one month before this cruise. It was nice getting to check out the new features added to the ship.
The cruise was for 9 days to the southern Caribbean with a stop in Labadee, Royal's private resort. The ship and all of the ports (except Curacao) were new to us. Navigator is one of those 3200 passenger ships. Big when it was commissioned but not as big as todays new ships.
Please Note: Click on any image for more specific information about it. Clicking on the little map will bring up a satellite image showing where we were when the image was taken. Camera setting information can also be found.
Our Cabin, 9255 - An Inside w/Virtual Balcony:
Navigator was one of Royal's first ships to get "Virtual Balconies" installed in some of the inside cabins. We tried one on "Anthem" and really liked it so we sprang for one on "Navigator". We could tell the technology was dated because the image was blurry and the exposure was way off. But, it was nice none the less because it provided a certain amount of foe natural light. Our cabin was setup with the usual double bed but getting into it on one side was difficult so we asked the cabin steward to seperate them. The arrangement was much better. Speaking of the room steward, he was great. He called us by name and bent over backwards to take care of anything we asked for.

A VIDEO-->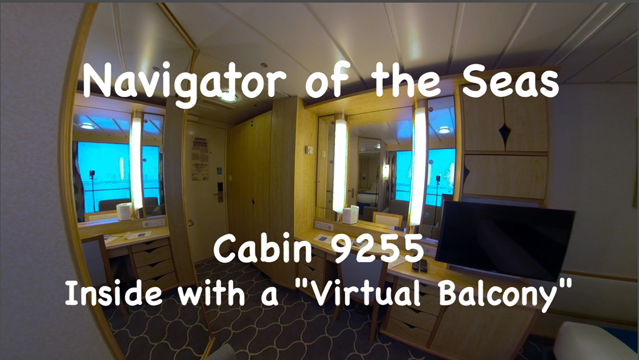 An Ice Skating Rink!!!


Thats right, Navigator has an ice skating rink with REAL ICE! The rink was opened for passengers on several occassions during the cruise. Us skate, no way but we enjoyed watching. We even attended an ice show that opened with a very impressive drone light show. Have to admitt that I gringed a few times when performers came awefully close to the walls when doing some jumps and flips.
A VIDEO-->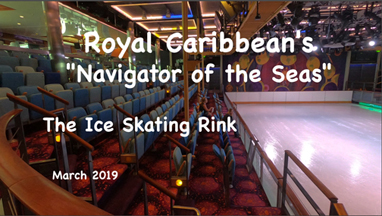 The Atrium:

The atrium is always an enjoyable place to go when we're looking for an indoor space to kick back and relax. I couldn't resist capturing a time lapse.
A VIDEO-->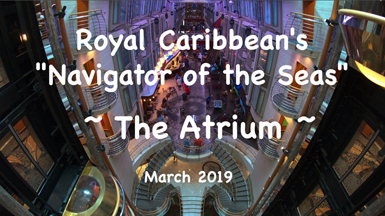 Labadee, Royal's Private resort on Haiti:

Kathy thinks I'm losing it in my old age because I signed up for "Dragon's Breath", a Zip Line that drops 500' and goes 2600+ feet over water. This was my FIRST Zip Line experience and it was awesome! Loved it! Besides the zip line, we rented clamshells and a couple chairs on the beach which really made the day for us. We wouldn't have lasted more than a couple hours on the beach without them. Overall, we really enjoyed our first visit to Labadee.....


A VIDEO-->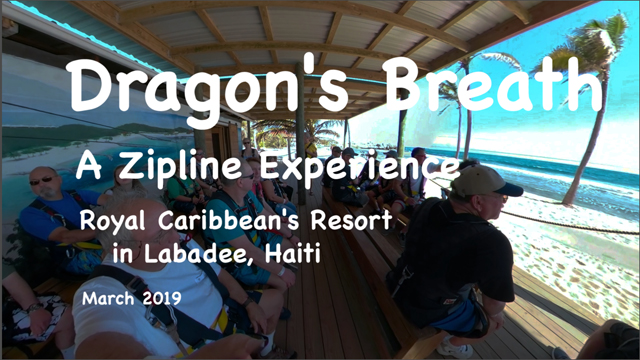 Bonaire:
A popular thing to do on Bonaire is rent golf carts from Bonaire Cruisers and head out at your own pace. Cart rentals had to be arranged in advance which we did. We were supplied with a map that indicated TWO sightseeing circuits to explore. We headed off on the shorter "Southern Route" which takes 1-1/2 hours to cover WITHOUT stops. We stopped and found ourselves pretty pooped after 3 hours. We turned in the cart and headed into town for some lunch and something cold to drink. Next time we'll cover the longer "Northern Route" which takes 2-1/2 hours WITHOUT stops.

A VIDEO--->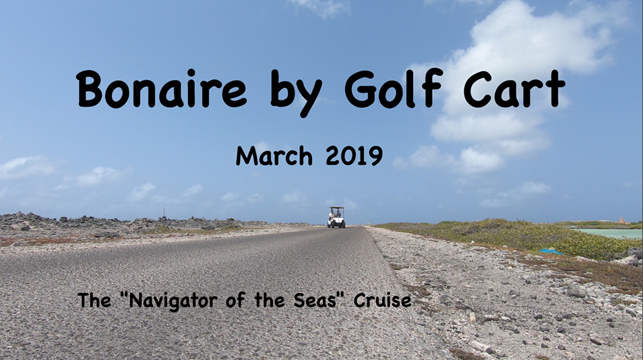 Curacao:
We had been to Curacao once before but never got further than town. This time we signed up for an excursion to see a little of the countryside. The excursion ended in town where we spent some time walking across the Queen Emma Bridge on our way back to the ship.

A VIDEO--->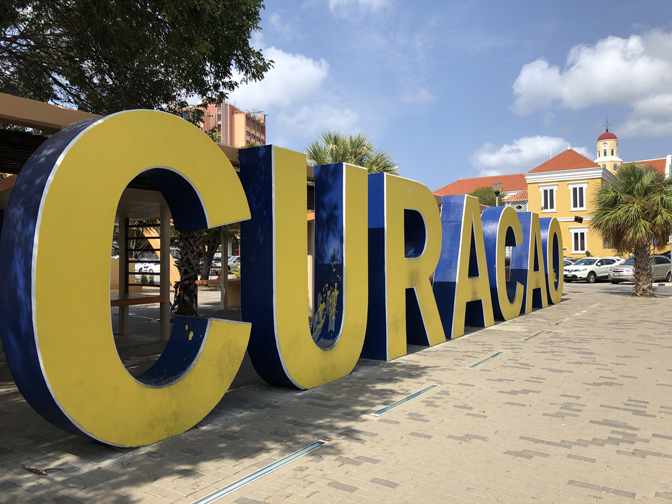 Aruba:
We've been to Aruba a couple times but never ventured into the countryside. This time we went off on an island tour that took us to a lighthouse to name one of the stops made along the way. Upon our return, we walked around town and decided to have lunch before returning to the ship. Before heading trhough the security gate, we discovered a free Trolly and decided to ride the circuit.

A VIDEO--->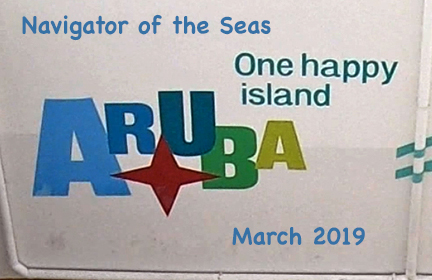 To see images in stream fashion:
Flickr Album
Return To Main Page

You are encouraged to poke around on our site and send a note to tell us that you were here. Comments about the page are also welcome. Just click on the mailbox.