NCL "Jade" Canadian Cruise

This was cruise number 27 in the last 8 years. We've been waiting 5 years for NCL to bring this 10 day itinerary back. This seems to be the only itinerary that goes all the way to Quebec City and back to NYC. Others that get to Quebec City are typically one way.




Getting To/From NYC....

We did the usual Bieber Bus from Kutztown PA to the New York Port Authority Bus Terminal. A taxi trip to the pier is typically around $15 but the weather was nice so we decided to walk the mile to the pier. The return trip is usually the problem as we try to catch an early bus. The taxi stand across the street from the pier gets backed up so we decided to walk even though the trip up 42nd street is up hill. We hustled and made the early bus with 10 minutes to spare.





The Ship....

We sailed on Jade several years ago on our very first trip to Europe. Back then, we sailed on a cruise to Greece to/from Venice Italy, a place we're due to revisit one of these days. Anyway, the ship went rhrough a multi-million dollar rehab in March 2017 so much of the decor was changed. Cabins got flat screen TVs, USB charging ports, carpeting, etc. Some of the public areas also received a facelift. Much, but not all, of the artwork going back to the ships days as "Pride of Hawaii" has been removed. It has been awhile since we sailed on this size of NCL ship and have to admit we've gotten to enjoy what the bigger ships have to offer. This size ship is still more relaxing and easier to get get around on.






Sydney, Nove Scotia.... We didn't plan any excursions so all we did in Sydney was walk the waterfront boardwalk and returned to the ship via a trip through town. Sort of a big loop that netted us some steps on our Fitbits. Our arrival was on a Sunday so not much was happening.




Charlottetown, Prince Edward Island....

This was our first time in PEI and, again, no excursions was planned to we set out to explore town on foot. The weather was nice and winds started out light so I played with the idea of launching my Zerotech "Dobby" selfie drone for some aerial photography. The breeze, however, picked up and I lost my nerve so it stayed in my camera bag.








Quebec City, Quebec....

As mentioned above, we had been to Quebec City on the cruise 5 years ago. Back then, we pretty much covered the place on foot and took a lot of pictures. This time around, we headed off on an excursion titled "Countryside of Quebec" to simply get away from the city for a few hours. The excursion took us to a waterfall refuted to be as high as Niagra but not as wide. Our visit to the falls gave us a view from below and above. The excursion also included a stop at a place referred to as "The Sugar Shack". Once back in Quebec, we headed out on foot for a few hours and eventually returned to the ship for dinner. Departure was scheduled for midnight so instead of heading back out, we simply enjoyed the view from our balcony which was spectacular. The view was shared with our friends Gene and Rita.

~ The Countryside

















~ Quebec City



































Halifax, Nova Scotia....

We had been to Halifax several times so we decided to book an excursion that got us out of town. The excursion took us to Lunenburg and another small town somewhere a 1-1/4 hour bus ride away. Both towns were picturesque. Once back in Halifax, we were to pooped to walk the boardwalk into town so we got back on board the ship and chilled out before dinner.

~ Lunenburg






























Return to New York City....
We were up at 5am to capture the ship going under the bridge as well as the lower Manhattan skyline. It was still dark out so the scene was not to be missed. Most of what we captured was time lapse video.



Click Here For The VIDEO Version....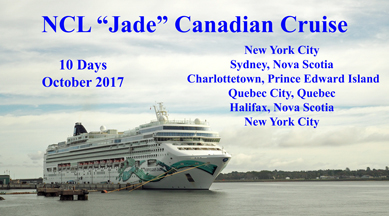 For the photographers among you: Both of us now shoot with Olympus OM-D E-M5 and E-M10 "mirrorless" interchangeable lens cameras. Just before the cruise, I purchased an Apple iPhone 8 and used it for stills and video. These new phones have capable cameras and are so much more convenient. In addition, I used an SJCAM SJ5000x Elite action camera to capture video.

Click here if all you want to do is browse through the images.... Flickr Album
Return To Main Page

You are encouraged to poke around on our site and send a note to tell us that you were here. Comments about the page are also welcome. Just click on the mailbox.