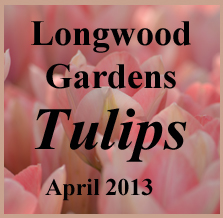 We were off to Longwood Gardens for this years Tulip display, 300,000 of them. The day started off cloudy but some sun later in the day really made the colors pop.
Besides seeing the tulips, our interest was in photographing them with some lenses we haven't used much. We're off to Ireland in a couple weeks and wanted to make sure everything was functioning properly. Kathy and I both shoot with Nikon D5100's but we bring along different lenses. For Kathy it's usually a Nikon 18-200mm but she has, on occasion, used a Sigma 70-300mm. Joe goes between a Nikon 18-55mm "kit lens" and a slightly heavier Nikon 18-105mm. I'm leaning towards the 18-55mm because it's small and light so I wanted to reassure myself that it was up to the job. A Nikon 55-300mm is in the bag as well but here again, I needed to put it on the camera and use it. All of the lenses we had with us were very adequate for our needs.
Clicking on any of these images will take you to flickr for a larger view and some additional information about the image. Additional information includes "geotag" data which shows where we were when taking the picture. A description of just what is available can be found by clicking here... flickr image info
Here are some of the images we captured....
Here is a little something for the Nikon shooters out there. The sensors in Nikon cameras tend to over expose reds so we've found that results will be better if we dial in some negative compensation. -.7 or -1.0 will usually do it. This image was put together to illustrate what I'm talking about. We usually shoot in "Programmed Auto" mode, "P", and use EV-Shift to dial in compensation when needed.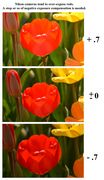 Return To Main Page

You are encouraged to poke around on our site and send a note to tell us that you were here. Comments about the page are also welcome. Just click on the mailbox.