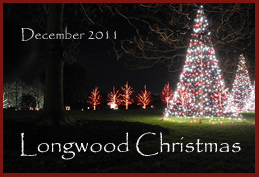 We went off to Longwood Gardens for their annual Christmas light display. The display is truly amazing and is kept interesting by introducing some changes from one year to the next. The trip was made during the week when the crowds are lighter which enhanced our picture taking. As photographers it's hard to miss but the biggest challenge is working without a tripod.
Clicking on these images will take you to a larger view on flickr. In addition to a larger view of the image, the flickr page will also provide camera information (make, model, settings) and a map indicating where we were when taking the picture. Click on the map then select satellite view... it's neat.
Kathy used a recently acquired Nikon D5100. Joe used a Nikon P7000. All of the images were geotagged with a Sony GPS-CS3KA.
Kathy's Images
Joe's Images
Return To Main Page

You are encouraged to poke around on our site and send a note to tell us that you were here. Comments about the page are also welcome. Just click on the mailbox.