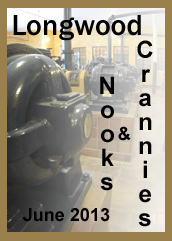 The Longwood Gardens education schedule came out months ago and we latched onto this one day photography workshop. The workshop was titled "Longwood Nooks & Crannies" and promised some photo ops in the places most never get to see. Our photography instructor for the session was Dick Greenwood. We got a kick out of Dick's opening when he mentioned that we will NOT be seeing any flowers in the places we'd be visiting.
We visited two areas, the pump house and the tunnels under the conservatory. Each presented different challenges. An electrician, Benny, was with us to give us some history and an overview of how things work. The complexity of what goes on behind the scenes is truly amazing. Basically, equipment in the pump house feeds the main fountain display and the lighting that gives it color. Tunnels, on the other hand, run throughout the conservatory.
Kathy and I bring different perspectives to our photography. I tend to be more "technical" and got a lot more out of the mechanical and electrical systems in the pump house. Kathy tends to be more artistic and got a lot more out of "lines" formed by pipe and conduit visible everywhere in the tunnels.
We were given plenty of time in each location to immerse ourselves into what we were photographing. Herein are some of the images we captured. Click on any of the thumbnails for more information about the image.
Return To Main Page

You are encouraged to poke around on our site and send a note to tell us that you were here. Comments about the page are also welcome. Just click on the mailbox.