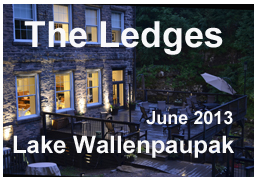 We get a weekly travel discount letter from Travelzoo.com and happened to come across an offering in Pennsylvania's Lake Wallenpaupak area. The deal involved purchasing discount vouchers for a Sunday thru Thursday stay at the Ledges Hotel in Hawley Pennsylvania. We purchased vouchers for a two night stay and made a reservation for June. That would give us a full day to point our cameras at whatever the area had to offer. At the very least, we wanted to do some hiking and picture taking. Our stay also included vouchers for the Cocoon Coffee House and a couple glasses of wine.
Weather was absolutely wonderful and perfect for the hiking and picture taking mission we gave ourselves.
We arrived at the hotel to early to check in so we let them know we were in the area and decided to hike our way to Hawley for lunch. We strolled around town a little and settled on the diner for lunch followed by ice cream at a shop across the street. Round trip for this hike was 3 miles over some reasonably level terrain. Some of the trail was simply a mowed path.
We had booked a "Contemporary" room and found that whoever we spoke to back in March had put us in one of their "2-story suites". First order of business was to check things out and capture some pictures before we moved in. This was pretty spacious accommodations indeed! The lower level was all living space with a desk, plenty of seating, a small kitchen area, and a powder room. Our bedroom was on the second level accessed via a spiral staircase. The bed was king sized and the master bath was completely tiled with one of those "rain" type shower heads.
Please Note: Many of these images were taken with a "Fisheye" lens hence the WIDE field of view which is curved towards the edges.
The hotels location was picture perfect and occupied what used to be a glass factory building. Loads of outdoor seating on several levels all overlooking a stream with some cascading water. Like I said, picture perfect!
Please Note: Many of these images were taken with a "Fisheye" lens hence the WIDE field of view which is curved towards the edges.
Lake Wallenpaupak is a manmade lake build by PP&L, an electric power utility, in 1926. Hydroelectric generating stations are usually built into a dam used to create a lake but this case is a little different. There is a 17 foot diameter water line that runs from the base of the dam to the power station 3-1/2 miles away. There are two trails that originate at PP&L's visitor center. The shorter of these trails runs along the pipe with the longer trail running in the other direction along the lake. We hiked both trails with the total round trip distance coming out to 4.8 miles.
At the Ledges, we met Glen and Madaleine and joined them for the hike along the water pipe.
Return To Main Page

You are encouraged to poke around on our site and send a note to tell us that you were here. Comments about the page are also welcome. Just click on the mailbox.