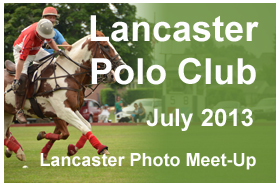 Now this was something completely different for us!! A member of the Lancaster County Photography Meet-up group, Diane, brought this to our attention and scheduled the meet-up. A group of about 20 of us met at the Lancaster Polo Club's facility in Rothsville Pennsylvania for an afternoon of polo. We've heard of polo but right here close by in Lancaster County? It was certainly new to us so we packed our camera gear along with a couple chairs and some water and off we went with friends Gene and Rita in tow.
We arrived at the "Forney Polo Field" early enough to go and find a spot along the sidelines. As luck would have it, we found a shady spot right next to Jeff, a polo match regular. Needless to say we were a little lost about the particulars of polo but Jeff was extremely helpful in filling in the details. He was also just plain fun to talk with.
On this particular day each team fielded 3 players. The game went for six 7 minute "chukkas" with riders changing horses between "chukkas". Wilipedia's entry about polo should be checked out by anyone who might like a little more detail about the sport. http://en.wikipedia.org/wiki/Polo
What you see here are some of the images we captured. For the photographer among you, the action sequences were taken with our cameras set to aperture priority (to keep our lenses wide open), iso 400 (to maximize shutter speed), rapid fire (to capture sequences), and continuous focus (so focus would be maintained as distances to the action changed).

Return To Main Page

You are encouraged to poke around on our site and send a note to tell us that you were here. Comments about the page are also welcome. Just click on the mailbox.