A Step Back Into Kathy's Irish Heritage - May 2013
One reason for making the trip to Ireland was to search out a little of Kathy's heritage. Kathy's maiden name is "Walsh" and is as Irish as can be. Her cousin, Chris, has done a lot of genealogy work and has been to Ireland several times checking into some of the family heritage. Chris provided some pictures and written direction to a couple places we decided to find. Our goal, if successful, was to update the picture record and capture some GPS coordinates making future searches easier.
As it turns out, Kathy's Great Great Grandfather is buried at Clonmacnoise, an ancient ecclesiastical site with origins dating back to 548. Clonmacnoise, in it's day, was a "major center for religion, learning, trade, craftsmanship and political influence". The site has been a National Monument since 1877. People are still being buried there but in a newer section outside the wall. Kathy's Great Great Grandfather, however, is among those buried within the historic site.
Her Great Great Grandfather's name was James Fox and he had 10 children, all girls. One of the girls married a Thomas Walsh, Kathy's Great Grandfather. One of Thomas's sons was James Walsh (Kathy's Grandfather) who immigrated to America and settled in Connecticut where he married and had several children one of whom was named James Walsh (Kathy's father). James Walsh, the son, had one child, a daughter named Kathleen.
Getting back to the burial site, Chris had provided an image of the gravestone along with an image of some of the others nearby that we were able to use in locating James Fox's tombstone. His image on the left is of the actual gravestone as it appeared several years ago during his last visit and is one of several stones throughout the site in similar condition. The real key for locating the stone was the second image which shows "Temple Connor" directly behind and in line with a "High Cross".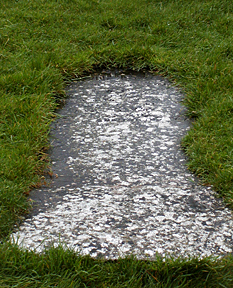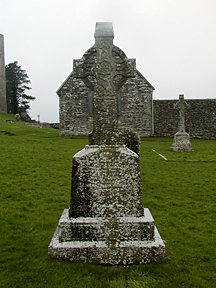 We found the gravestone and were looking it over when Kathy, for some unknown reason, brushed back the grass and found that she could peel it back in a sheet. We were truly amazed at how much of the stone was covered in grass and at how well preserved it was. We didn't have a measuring tape with us but figure the stone was probably about 6' long by 2-1/2' wide and are uncertain if it was originally standing upright. We suspect that it was originally standing upright because of it's size. We took a number of images and adjusted contrast in an effort to enhance readability of the inscription. We made an effort, while there, to record the inscription line by line.....
O' Lord Have Mercy of
James Fox
of Cart????
Who Died This ???? 1883
Aged ????
Also His Wife
Alice Fox
Died October 14 1890 Age 75 Years
Note: The ???? inserted above indicate sections that we simply couldn't read and does not indicate the number of missing characters. In case you are wondering, we returned the grass to it's original position.
Here are the images we captured. Note that all of our images have also been geotagged with the GPS information....
The next day we set out to locate what remains of the original homestead. Before traveling to Ireland we discovered that Google Maps had captured "Street Level View" images over many of the roads described in Chris's instructions. On the computer we drove along the road and found what we believed to be "The Gate" and captured the lat/lon. The ruins were about a 1/3 mile walk across the field accessed from "The Gate". Chris also asked that we make contact with Kathleen Coughlin who lives at the end of the road. Kathleen's brother used to own the land around the homestead but he has since past so her sister-in-law now owns it. Kathleen wasn't home so we set off on our own to find the homestead.
It's believed that the homestead is where Thomas Walsh (Kathy's Great Grandfather) lived and where his son James Walsh (Kathy's Grandfather) grew up before immigrating to America.
We parked in front of the gate and found that the fields had recently been plowed and, with all of the rain, were pretty muddy. To top it all off, it was raining when we arrived so we got into our rain gear, opened the gate, and headed out in search of the homestead. We were beginning to think our search was in vain but there it was in a clump of trees. It was in pretty rough shape with thick growth making it impossible to get inside. Not that it would have been a safe thing to do anyway. We probably spent about an hour capturing some images and gathering GPS coordinates before heading back to the car. Once back at the car, we began the arduous task of stepping in puddles and wiping our feet on some roadside grass to get the mud off of our shoes. Much to our surprise no one stopped by to ask what we were doing.
Pictured here is the road and "The Gate", an interesting process in itself. The 1st image shows the speed limit. 80 km/h is about 50 mph!!
Here are some of the images we took....
After our adventure at the homestead, we headed to Kathleen Coughlin's home to see if anyone was home. We arrived back at the house only to discover that it wasn't Kathleen's. The person we met directed us further down the road where we met Kathleen and her husband Francis.
Return To Main Page

You are encouraged to poke around on our site and send a note to tell us that you were here. Comments about the page are also welcome. Just click on the mailbox.