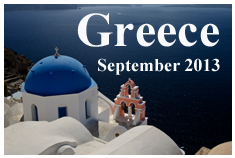 We get a weekly Travelzoo.com newsletter and every so often they will feature travel packages to Greece and at reasonable prices. The package that caught our eye was being offered by Gate1 Travel and, besides r/t air thru Athens, involved visiting the islands of Santorini and Mykonos, both of which we visited back in 2011 while cruising aboard NCL Jade. Both of these islands were hi-lights of the cruise and the idea of spending 3 nights on each was very appealing. Friends, Gene and Rita, also get the Travelzoo newsletter and were excited about the idea so we sat in front of a computer, picked a date, looked over the details, and booked it. The Gate 1 package was billed as an "Independent Tour" in that the package covered logistics but once at a location we were free to explore at our own pace.
As mentioned above, the package included r/t air for two between JFK and Athens. Flights were 10-11 hours but were non-stop which was nice. The rest of the itinerary included a flight from Athens to Santorini, ferry transport between Santorini and Mykonos, ferry transport back to Athens, and all of the necessary ground transfers between airports, ports, and hotels. Also included was 3 night hotel stays on the islands and a 2 night stay in Athens before flying home. The flight to Santorini was under an hour and saved us from an 8 hour ferry boat ride. The flight also gave us an opportunity to see some of the islands...
Getting to JFK from our home in eastern PA involved taking a Bieber Bus from Kutztown PA to the NY Port Authority Bus Terminal. From there we took the NYC Airporter to the airport.
This was our first Gate 1 experience and we quickly became impressed with the operation. Representatives met us at the airport in Athens and provided each of us with a packet of general information. Our packet also contained tickets for our flight to Santorini, ferry boat tickets, straps for our suitcases, and emergency contact information for each stop on our itinerary. In addition, we were also met by someone at each stop who escorted us to our hotel and provided more detailed information about the place we were visiting. Information on things to see and do in the area as well as information on public transportation, customs, and health concerns about drinking water, etc. They were also there to provide any assistance needed in an emergency. For example, one woman in our group suffered a nasty burn on her leg when it came in contact with the exhaust pipe of the scooter they rented. It became infected and the representative went with her to the hospital to get it treated.
Santorini:
The island of Santorini has several villages on it and our hotel, Agean Plaza, was located in Kamari, a beach community not far from the airport along the southeast coast. We were instructed not to drink the water but that it was OK to wash and shower with it and consume food that had been rinsed and cooked in it. It simply tasted bad. Fortunately bottled water was widely available and at a very reasonable cost.
The beach at Kamari was one of the "Black Sand" beaches we had heard about. We were not impressed with the beach which was made up of pebbles rather than sand. Very difficult to walk on. The walkway along the beach was, however, quite nice with many shops and restaurants along the way. All of this was a short walking distance from our hotel. We decided to spend our arrival afternoon at the hotel taking a dip in the pool, catching a nap, and having dinner at one of the beach front restaurants.
We spent our first full day on Santorini in Oia and Fira (the island's capital). Oia was the furthest point for us so we headed there first. Getting there involved taking a public bus to Fira and connecting with another bus to Oia. Oia is absolutely beautiful and is not to be missed. The village is high on a cliff overlooking the ocean so we spent most of the day exploring every corner of it and taking pictures of the spectacular scenery. Lunch was at an open air roof top restaurant taking in the view. Later in the afternoon we headed back to Fira to catch the sunset and grab dinner before heading back to our hotel. This was the 1st day of our vacation and we probably made it a lot fuller than it needed to be. We were pooped..
For the second full day we decided to check out the other "Black Sand" beach at Perissa. Perissa is a short distance away however there is a mountain in the way so getting there involved taking the bus to Fira and connecting with another bus to Perissa. The beach itself was much nicer and was made up of something closer to "sand" but still not as fine as we're accustomed to. While the beach itself was nicer, there were not as many shops and restaurants along the walkway. We had lunch there before heading back to Kamari. While waiting for the bus we heard about a water taxi that takes you the short distance around the mountain to "our" beach. Rita wasn't up for getting her feet wet so her and Gene took the bus back. We, however, wandered down to the beach to check it out and went for the 20 minute boat ride which was an enjoyable way to go. Once back on "our" beach we ate some ice cream while our feet dried, put on our sneakers, and hiked back to the hotel.
Getting from Santorini to Mykonos involved taking a 3 hour "Fast Ferry" ride. And fast it was moving along the water at 45 mph. Getting to the ferry port via bus was interesting as the driver drove the road terraced on the face of the cliff. The view was spectacular and I made an effort to capture a few images thru the window. There were four ferries in the port with lots of people getting off/on each one. We all dragged our bags aboard, stored them in a rack and then made our way to an upper deck for our assigned seats. Seats were very much like what you would encounter on an airplane only bigger and more comfortable.
Mykonos:
Once on the ferry boat pier, we were shuttled by bus to our hotel. San Marco was located on the side of a hill with an absolutely spectacular view of the sea. These were very nice digs! The hotel provided a shuttle into town so we went in for dinner at one of the harbor side restaurants. We were staying at the San Marco for 3 nights which gave us 2 full days to explore.
After breakfast, we headed into town to check out the sights. Mykonos has a labyrinth of little alleys lined with shops and cafes and is a great place to get lost in. Our initial destination was the famous 5 windmills located on a hill just beyond town. We got there early enough for some pictures before most of the crowd arrived but, with 3 ships in port, it wasn't long before they arrived. I took a bunch of pictures for people and spoke photography with a few. A couple from England comes to mind. The weather was spectacular so we worked our way thru some alleys to another windmill up high on a hill to take in the view. We headed back into town and stopped for lunch at a small cafe and to purchase some shirts before heading back to the hotel. One of Gene's shirts was incorrect so we headed back into town to exchange it. Try as we did, we simply were not able to find the shop which had us wondering if the place gets re-arranged every evening. We eventually gave up the search and stopped for dinner in the area referred to as "Little Venice".
On our second full day, we took the boat ride out to Delos Island to check out the ancient ruins. Most of our time there was spent on a guided tour which was very informative. We certainly would not have understood the history had we simply wandered around on our own. We were back in town around 2pm and decided to do the late lunch / early dinner thing before heading back to the hotel. As luck would have it, we found the shop we were looking for the night before!
Getting from Mykonos to Athens involved taking a 5 hour ferry boat trip. The ferry boat was scheduled to get us into Athens around 7pm but was running late so we arrived closer to 8pm, after dark. The ferry had a couple different fast food restaurants aboard so we had dinner before our arrival in Athens.
Athens:
Our stay in Athens, at the Stratos Vassilikos Hotel, was for 2 nights which would give us 1 full day to explore. Originally we were going to do a self guided walking tour but instead opted for a 4 hour bus tour where most of the time was spent at the Acropolis Museum and The Acropolis (and most notably The Parthenon). Both of these, especially the museum, were not to be missed when visiting Athens. We toured these with a guide who pointed out many of the details we would otherwise have missed. Frankly, we were surprised at the size of the site up on the rock.
Following the tour, we explored The Plaka and The Monastiraki districts then took the metro back to the hotel. We enjoyed the Plaka district more and, given enough energy and time, would have spent more time there. Our final diner in Greece was in the hotel's restaurant.
Please Note: Click on any image for more specific information about it. In some cases, holding your cursor over the image will bring up some embedded notes.
Return To Main Page

You are encouraged to poke around on our site and send a note to tell us that you were here. Comments about the page are also welcome. Just click on the mailbox.