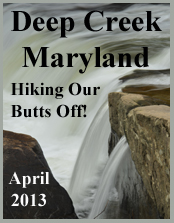 Our oldest son, Scott, secured a one week stay at the Deep Creek Inn in Deep Creek Maryland. Scott and family could only stay the weekend so we took the place during the week. Deep Creek is located in the western most portion of Maryland and is known for it's hiking trails. Our mission was to take our cameras for hikes as we searched for photo opportunities. A word about hiking at our age (66).... we are blessed with the health needed to do some of this walking. That's not to say we don't feel some aches and pains because we do but we're committed to keep moving while we can.
We visited several locations and hiked several trails. The thing that amazed us was the destruction brought on by hurricane Sandy last Fall. While those of us who live further east got lots of wind and rain, western Maryland got lots of wet heavy snow. Snow that caused a lot of trees and branches to fall. One park ranger described the sound of cracking all night long and how they were without power for 11 days. They no sooner would chainsaw their way out of their homes and would have to turn around and chainsaw their way back in.
Clicking on any of these images will take you to flickr for a larger view and some additional information about the image. Additional information includes "geotag" data which shows where we were when taking the picture. A description of just what is available can be found by clicking here... flickr image info
Swallow Falls SP...
The first location in the area that we heard about was Swallow Falls State Park and it's waterfall. The trail took you to the largest waterfall then made a loop along the river and past a couple more cascades. This was our first encounter with all of the damage done by hurricane Sandy. Fortunately the trails were clear but some of the boardwalks were still in need of repair. We took some informal portraits of each other at several locations along the trail.
Maryland Highest Point...
Scott told us about hiking to Maryland's highest point, Hoye-Crest, so we went out in search of the trailhead which is actually in West Virginia. This turned out to be the most strenuous hike we've ever been on. We've walked the distance many times but the 500 foot change in elevation made the going tough. We took our time and got there one step at a time and came away from it with a high sense of accomplishment. That's not to say we didn't find some aches and pains because we most certainly did discover a few new ones. We used "Sport Tracker" on our phones to determine that the way up was 1.43 miles and took us just over an hour to get there. Once at the top, we found a mailbox containing a log book and some certificates.
Smallest Church...
One point of interest not far from the MD Highest Point trailhead is the Smallest Church in Silver Springs West Virginia The church is billed as the smallest one in the lower 48. A couple of the interior images were taken with a fisheye lens which makes it look larger than it really is. Fortunately, Kathy captured an image of me which shows the interior in proper perspective. Behind the church is the Smallest Post Office.
Oakland Maryland...
We spent a little time in Oakland Maryland's historic area. The biggest claim to fame is the restored hotel and railroad station both of which were closed so we couldn't get inside. It was mid afternoon so we stopped for ice cream sundaes at Dottie's Grill and Soda Fountain.
Deep Creek SP...
Scott told us about a trail to a fire tower and coal mine which turned out to be nearby in Deep Creek State Park. We found someone in the park to give us information on just how difficult the trails might be. We certainly did not want to tackle one as difficult as the MD Highest Point one we completed the day before. There is a 5+ mile loop that takes you by both points of interest but we weren't up to it so we got information on getting to the coal mine. The trail leading to the coal mine was pretty short and somewhat up hill but we made it without difficulty. The ranger did point out a short and steep "cheater trail" that gets you from the coal mine to the fire tower outer loop. We were feeling pretty good at the coal mine so we gave it a go and made it to the fire tower. There were several communications towers in the area one of which was right alongside the fire tower. Again, Sport Tracker told us it was 1.89 miles to the tower with the cheater trail being the most difficult part of the journey. We took our pictures, had some water and a granola bar and made our way back to the car. We didn't think we would get to the tower this day but we did and felt great about it.
Deer Park...
In our travels, we stopped at a nearby community park called Deer Park. The park had a short paved hiking trail but wasn't much from a photography point of view. We did settle in at a lakeside picnic table and brought out our 55-300mm lenses to capture some images of the windmills off in the distance. While we were at it, we took some portraits.
Blackwater Falls SP...
We've been to Blackwater Falls State Park in West Virginia a couple times before and since it was only an hours drive away headed down there for a visit. The process of driving there gets you pretty close to the windmills we've been looking at in the distance so we had to stop to take a few pictures. The size of them and the sound they make is pretty amazing. The major trail to the waterfall was closed because of all the damage so we did the best we could from other directions. We stopped at the lodge for coffees, found a picnic area, and ate our lunch before heading back to Deep Creek for our final night in the area. All in all, this was a very leisurely day.
Return To Main Page

You are encouraged to poke around on our site and send a note to tell us that you were here. Comments about the page are also welcome. Just click on the mailbox.