The Birthday Cruise
NCL "Breakaway"

This was cruise number 26 in the last 7-1/2 years. I was celebrating my 70th birthday during the cruise and felt it would be great if some family came along to help. Besides, I didn't want a cake covered in candles and no open flames are allowed on the ship so that was covered. We had Scott, Courtney, 4 of our 6 grandkids, and a nephew from Connecticut along.

The cruise was aboard NCL's 3 year old ship, "Breakaway". When at 100% capacity, the ship holds about 4,000 passengers. This was a mid-summer cruise so there were several hundred kids aboard. At first, I thought that was going to be an issue but, frankly, it didn't "feel" to crowded.
We sailed Sunday to Sunday on this 7 day cruise to Bermuda. There were 2 sea days up front and 1 at the tail end. We arrived in Bermuda on a Wednesday morning and sailed away on Friday afternoon around 2pm.
This webpage is a departure from the usual for me. I'm offering here some videos about the cruise. No rows of thumbnail images for you to browse through. So, grab a coffee, turn up the vouume, sit back and enjoy...
The first video offers hi-lights of the cruise overall. Not everything but enough to give you a flavor for it....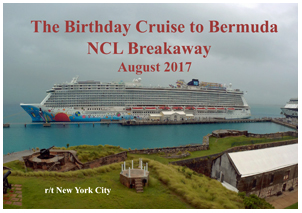 This slideshow video covers what I call the "Family Time" images...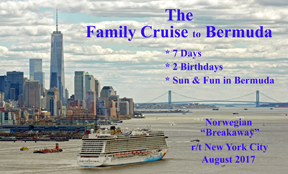 There are some time lapse segments burried in the "Birthday Cruise" video. The entire video doesn't fit into Flickr so I pulled out the time lapse videos into seperate files. The videos will not auto stary so you will have to click on the Arrow within a Black Circle located in the center of the image. Enjoy....
Return To Main Page

You are encouraged to poke around on our site and send a note to tell us that you were here. Comments about the page are also welcome. Just click on the mailbox.