Celebrity Summit Cruise
NJ - Bermuda - NJ
July 2013
We have always avoided a summer cruise until the email arrived with some discount rates for a 7 day Celebrity Summit cruise to Bermuda. Besides the lower price, this was our chance to give Celebrity a try, sail from Cape Liberty in Bayonne NJ, and enjoy some warm weather for every one of the days during the cruise. In the past we've avoided sailing out of Cape Liberty because of it's proximity to New York and the potential for heavy traffic but this was a Sunday to Sunday cruise so how bad can it be on a Sunday morning. Actually, the traffic wasn't bad at all.
Parking at the pier was $19/day but we heard about some off-site parking at $12/day so we submitted an online reservation. Premier Parking provided the lower cost off-site parking with a process similar to what we typically do at an airport. We parked the car and their shuttle van drove us the 1-1/2 miles to the pier. The process was reversed on our return. Everything went well with a minimum of waiting.
The embarkation process was smooth but just a little strange. Everyone passes thru security to enter the terminal building at which time you check in and are given a number. When your number is called, you get on a shuttle bus which drops you off at the gangway. The gangway is not connected to the cruise terminal as they are when sailing out of Manhattan. Strange but it works.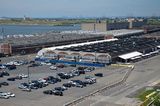 Summit was built in 2001 and carries just over 2,000 passengers. The ship was tastefully decorated and was clean and orderly but had an "older" feel about it. IMHO, this isn't a bad thing because it projects a quiet and subdued environment which we prefer. There were some kids aboard but not as many as one might expect on a summer cruise. After thinking about it, we realized that there really wasn't much to attract kids. There were some attractions but just not a lot. By contrast, NCL Breakaway carried 500-600 kids and had an upper deck with several water slides, a rock wall, and a ropes course to name some of what we could see.
There were three pools on Summit all of which were salt water. One of the pools was under roof and was heated with lots of turbulence. It was sort of like a giant whirlpool, nice. Someone on the Cruise Critic "Roll Call" suggested packing bathing suits in our carry-on which we did. This was the first cruise where we actually used the pool on embarkation day. Past cruises were typically over the winter months which means a couple days of cold weather until we get to a warmer climate. Seating around the pools was at a premium on sea days but we were always able to find a place to sit. We especially enjoyed kicking back in a comfortable chair and reading our Kindles on the promenade deck.
Around 2pm cabins were open for us to check out. For this cruise we booked an INSIDE under the "Guaranteed Cabin Type" program which basically means you forfeit selecting a cabin for a lower rate. Works for us because being on a ship is more important than exactly where they place us. The INSIDE cabin we were assigned turned out to be very nice with more than enough space and plenty of storage. We were very happy with it.
We left Cape Liberty on a Sunday afternoon, spent two calm days at sea, and arrived in Bermuda Wednesday morning. The ship would remain at the pier until Friday afternoon essentially turning it into a pier side hotel. We were free to come and go at any time. We decided not to do any ship sponsored excursions. Weather for all three days in Bermuda was simply perfect! Temperatures were in the low 80's with plenty of sunshine. The only rain we saw was a 20 minute passing shower on the final day.
The first thing we did once off the ship was purchase two day transportation passes and take the ferry to St. Georges, the furthest point. Our goal was to visit Fort St. Catherine and perhaps spend a little time in St. Georges before boarding the ferry for the return trip. There is a free shuttle to the fort which saved a lot of steps. We toured the fort and checked out the exhibits and were ready to return just after noon but the shuttle driver was on lunch break. It looked like we were not going to get back in time for the 1pm ferry but a local vendor came to the rescue. She flagged down a hotel van that happened by dropping some guests off at the beach. We hitched a ride back to St. Georges and made the 1pm ferry back to the ship. In hindsight, we should have brought swim gear and gone to the beach at Turtle Bay which was nearby.
We decided that the second day would be our "beach day". Many of the pink sand beaches are along the southern coast with Horseshoe Crab Bay being the most popular of them. From what we've heard, the beach is beautiful but can be a bit crowded when cruise ships are in port. Someone on the Cruise Critic "Roll Call" mentioned how the Coco Reef Resort accepts day visitors. We found out that $50/pp gets you use of the beach, chairs, umbrellas, fresh water pool, towels, and lunch. Sold!! We reserved two spots and spent the day there. The fastest way to get there involved taking the ferry to Hamilton and a bus to Coco Reef Resort. We elected to take the bus all the way back to the cruise pier so we could check out some of the local scenery. We purchased a waterproof camera aboard the ship and had a lot of fun with it at the beach.
For the third day we decided to stay around The Royal Navy Dockyard. I spent the morning touring the Maritime Museum while Kathy ventured over to the Clock Tower Mall to look around.
One unique thing about the departure from Bermuda was being allowed to go out on the helipad. The helipad is all the way out on the bow of the ship where passengers are not allowed to go. Closed toed footwear was required so Kathy couldn't go since all she brought along were sandals.
I mentioned NCL Breakaway in a couple places. Breakaway just came into service in May 2013 and carries about 4,000 passengers. Crew is somewhere around 1,500 on top of that. Breakaway was on the same itinerary but an inside cabin would have run us an ADDITIONAL $800. We'll sail on her someday when the newness wears off and prices become more competitive....
Some closing comments. This was our first Celebrity cruise, our 14th cruise in just under 4 years. Most of our cruises have been on NCL so we were asked a number of times how do they compare. In thinking about it, they are more alike than different. Each has a few things to make them different with these differences often being very subjective. The food is better on "A" than "B" or the service is better or crew attitudes are better, etc. All very subjective. To us, they're all good and very similar.
Return To Main Page

You are encouraged to poke around on our site and send a note to tell us that you were here. Comments about the page are also welcome. Just click on the mailbox.