The 50th Anniversary Cruise
August/September 2019
We reached a milestone in August and celebrated our 50th wedding anniversary. That's right, 50!!! So, months ago, we began looking for ideas on something special and different to do. How about one of those riverboat cruises in the Great Lakes? Maybe on the Mississippi? All were unbelievably expensive! We continued looking for ideas...

Then we started looking towards Europe. We're getting older and don't know how many airports and long flights we have remaining so maybe now's the time to do it. We zeroed in on several itineraries but were drawn to the Scandinavian and Baltic Sea cruises. There is lots of press about Viking Ocean Cruises but, BOY, were those expensive! The major cruise companies also offer itineraries there and at much more reasonable prices. Norwegian (NCL) is one of them and started offering flight, hotel, and ground transportation packages around their cruise. We've done a bunch of NCL cruises and decided to go with them....

I called my NCL "Personal Cruise Consultant" and had her put some numbers together for us. We've been on NCL's "Getaway" before but ALL of the ports would be new to us. We opted for a "Spa Balcony" cabin since we would be traveling in late August / early September when outdoor temperatures are expected to be cool. The spa would give us a warm comfortable place to go for a dip after a day of touring. We went for the total package. Much to our surprise, we were cruising Europe for less than one of those Great Lakes / Mississippi cruises.

The cruise was aboard NCL "Getaway" for 9 days starting and ending in Copenhagen Denmark. We opted to spend one pre and post cruise night in Copenhagen which gave us a little time to check the place out. The cruise would be making stops in Germany, Estonia, Finland, Sweden AND an overnight stay in St. Petersburg Russia. We decided to go on an organized tour in each port.

Here are the details.....

Germany... the first stop was in Warnemunde, a 3 hour bus ride from Berlin. Once in Berlin, we met up with a guide who took us around for six hours. Some of the sights seen were Checkpoint Carlie, Vanderbilt Gate, etc This was a VERY full day that took us into west and east Berlin.

Estonia... the ship docked in Tallinn where we boarded a bus that took us to "Old Town" which happens to be on two levels. We started on the upper level and, with our guide, walked down to the lower town.

St. Petersburg Russia... Without a doubt, our two days in St. Petersburg was the hi-light of the trip. We pre-booked a two day tour with SPB Tours and were assigned a guide and driver who stayed with us for both days. In a word, they were FANTASTIC!
The primary focus of the tours were the structures built when the Tzars ruled. It was a time of unimaginable wealth. Of all the structures toured, we were most impressed by the "Church of Our Saviour on the Spilled Blood" and all of the artwork entirely done in mosaic tile! This video attempts to capture some of the opulance built into these structures.....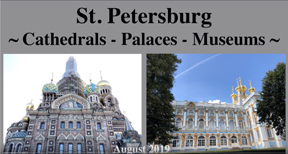 Our guide did a fantastic job keeping us on schedule so time permitted for a trip into St. Petersburg's Metro referred to some as an art museum for the masses. We rode the longest escalator we've ever been on.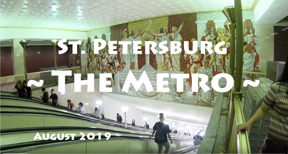 Finland... specifically Helsinki. We had some free time and I just had to try some local pastry that was similar to a Portuguese "Malassadas".

Sweden... we had a formal tour of Stockholm which was followed by some free time. We were ready for lunch and went out in search of Swedish Meatballs which we found. Much better than the ones we've had a Ikea but far more expensive.
Denmark... the cruise began and ended in Copenhagen Denmark so we got to spend a little time exploring around the hotel. Amazing how many bikes are in use around the city. Electric scooters to. There were seperate bike lanes right alongside of roadways. All of it flowed with car traffic. Amazing...

Countries Visited Video... A video covering the 6 countries visited can be found here...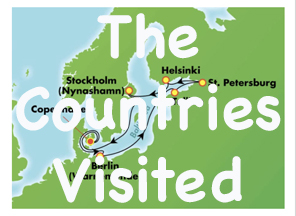 Flickr Album... I set up a Flickr album for our still images. Click here to browse through our images.... Flickr Album





Return To Main Page

You are encouraged to poke around on our site and send a note to tell us that you were here. Comments about the page are also welcome. Just click on the mailbox.